One of the most important items on my list of things to do while I'm in South Carolina is to pay my respects to a man whose writing has brought me such great joy.
Pat Conroy was a larger than life individual with a charisma that knew no bounds.
Through his love of words and story, he continues to live in our hearts.
Donald Patrick Conroy (October 26, 1945 – March 4, 2016)
Excerpt from Pat Conroy Website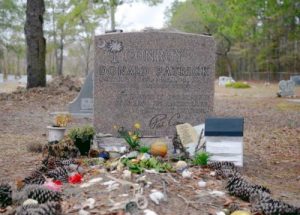 "Pat is buried in St. Helena Memorial Gardens cemetery (Ernest Drive, Saint Helena Island, SC 29920) a decision Pat made facilitated by his life-long friend Roland Gardner, who has deep roots in the Gullah community. Pat first met Roland at an event at the Penn Center on St Helena's Island while both were in high school, at a time when schools were still segregated in South Carolina. Pat went on to become a bestselling writer and Roland a nationally recognized as a leader in community medicine. Gardner is the revered CEO of Beaufort Jasper Hampton Comprehensive Health Services, serving three counties in South Carolina. He is also a member of the founding board Pat Conroy Literary Center.
Three weeks before Pat Conroy's death from pancreatic cancer, Roland advocated for his friend, making Pat the first white person to be buried in this cemetery near the Penn Center, a National Historic Landmark and the site of the historic Brick Church and one of the country's first schools for formerly enslaved people. The Penn Center is widely recognized as one of the most significant African American historical and cultural institutions in the United States. Those who knew Pat best believed his unspoken last act was that of a teacher: he wanted his readers to receive an important education in Civil Rights History. And that is one of the many things that the Pat Conroy Literary Center in Beaufort works to accomplish."