In the past, Thanksgiving has always been a dinner that my mom and I would share responsibilities for.
She would cook the turkey and dressing at her place. Donald would pick her up and bring her to our place where I'd be putting together the side dishes.
It worked like clock work for years and years.
Then. All of a sudden Thanksgiving rolled around and my mom wasn't here any longer.
So, Donald and I went out for dinner on Thanksgiving Day.
Of course it wasn't the same.
Not only was my mom not with us, but the dressing was cornbread dressing.
Not to throw shade on cornbread dressing, but that's just not what Donald and I grew up with and we've never acquired the taste for it that enables us to appreciate it like a lot of people in the south do.
One year when we went to Cracker Barrel for Thanksgiving, I ended up ordering breakfast instead of their turkey dinner which included cornbread dressing.
It was good - - but . . .
And the leftovers. We missed having that open faced turkey sandwich with gravy the next day.
Sooooo good, plus all the work had already been done and it was an easy peasy meal. Delish!
So.
This year I'm cooking Thanksgiving Dinner.
Thanks to Facebook.
I ran across this recipe and was immediately intrigued.
Slow Cooker Maple Herb Butter Turkey Breast with Apple Cider Glaze.
Oh. My.
Maple

-

Yay!
Herb Butter

-

Yay!
Apple Cider Glaze

-

Yay!
and in a slow cooker?!

-

Yay!!
Gotta try it.
Here's the link:
https://www.a-kitchen-addiction.com/slow-cooker-maple-herb-butter-turkey-breast/
SLOW COOKER MAPLE HERB BUTTER TURKEY BREAST WITH APPLE CIDER GLAZE
Author:
A Kitchen Addiction
INGREDIENTS
For the Turkey
1 (5-7 lb) bone-in turkey breast, thawed and patted dry with paper towels
¼ C butter, softened
2 tbsp maple syrup
1 tsp maple extract
1 tsp garlic powder
1 tsp thyme
1 tsp basil
1 tsp sage
½ tsp salt
½ tsp pepper
1 C chicken broth
½ C onion, sliced
3 medium carrots, peeled and cut into 2 inch pieces
3 ribs celery, rinsed and cut into 2 inch pieces
2 garlic cloves, roughly chopped
For the Glaze
2 C apple cider
3 tbsp brown sugar
⅛ tsp salt
⅛ tsp ground black pepper
INSTRUCTIONS
In a small saucepan, combine apple cider and brown sugar. Bring to a boil over medium heat, reduce to medium-low and allow to simmer until reduced to about ¾ cup or a little less than half. Remove from heat, stir in salt and pepper, and set aside.
In a small bowl, whisk together garlic powder, thyme, basil, sage, salt, and pepper.
In a separate small bowl, stir together softened butter, maple syrup, maple extract, and half of herb mixture.
Spread herb butter underneath the skin of turkey breast. (You can use a spoon to get to the edges and spread it around with your hand on the top of the skin.) Sprinkle remaining herb mixture over the top.
Pour chicken broth into a 6 quart slow cooker. Add onion, carrots, celery, and garlic cloves. Place turkey breast on top.
Cook for 6-8 hours on low or until internal temperature at the thickest part of the breast reaches 165 degrees F. Two hours before the turkey is done, brush the apple glaze over the top and sides of the turkey breast every 30 minutes. You can check the temperature of the meat at 4 hours to see if the turkey breast will be done at 6 hours or closer to 8 hours. (If you find that your glaze has gotten too sticky, just put the glaze back on over low heat and stir in some more apple cider until it becomes runny enough to brush over the turkey again.)
Allow to rest for 20 minutes before slicing into pieces and serving.
NOTES
Optional: Place the turkey breast in a broiler-safe dish and broil for 5-7 minutes to brown the skin.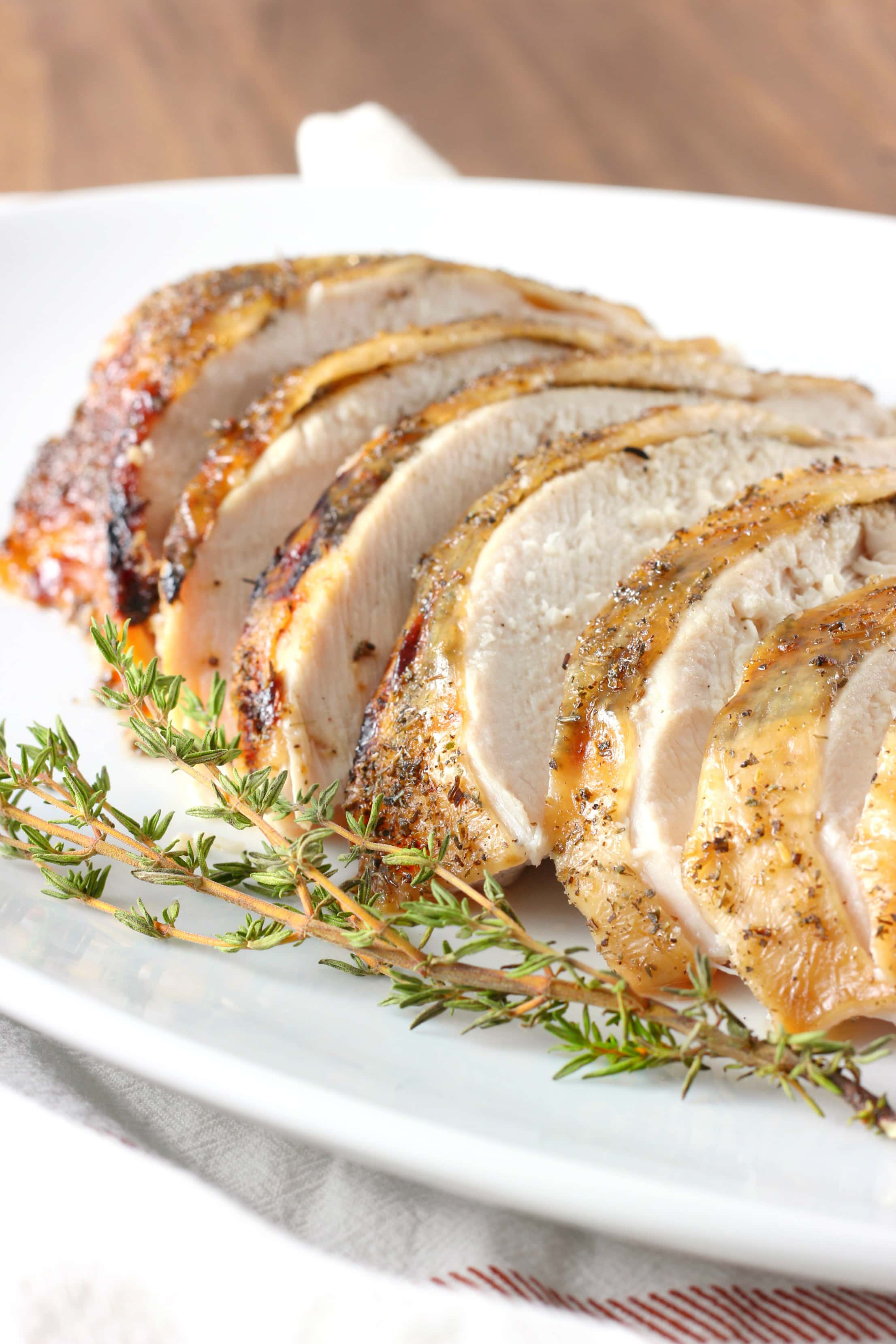 This recipe is made possible by the Minnesota Turkey Growers Association. As always, all opinions are my own. Thanks for supporting brands that make A Kitchen Addiction possible!
Turkey's in the crockpot.
As it gets closer to being done I'll start glazing it every so often with the apple cider and brown sugar.
Fingers crossed! I'll let you know how it goes!
And - there will be dressing. Old fashioned sage dressing like my mama used to make.
And mashed potatoes.
And gravy.
And yeast rolls.
And a couple of side dishes. But only a couple since it's only Don and I. No big ol' casseroles this year.
And a pecan pie. Don Barley loves pecan pie. Me? not so much . . .
But there's always ice cream. Yay!
Happy Thanksgiving, everyone!
Whether you're spending the day with a houseful, or at a table for one, I wish you warm wishes and good health.