It's impossible to visit New Orleans and not eat well. This, however, was probably my favorite meal.


Crabmeat Cheesecake

Palace Café
Serves 8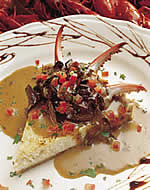 Palace Cafe's Crabmeat Cheesecake
Pecan Crust
1/4 cup pecans
1 cup all-purpose flour
1/4 teaspoon salt
5 tablespoons butter, cold
3 tablespoons ice water
Filling
1/2 cup onion, small diced
1 tablespoons butter
4 oz crabmeat
8 oz cream cheese, room temperature
1/3 cup Creole cream cheese or sour cream
2 each eggs
1 tablespoons hot pepper sauce (we use Crystal brand hot sauce)
Kosher salt and white pepper to taste
Meuniere Sauce
1 each lemon, peeled and quartered
1/2 cup Worcestershire sauce
1/2 cup hot pepper sauce
1/4 cup heavy whipping cream
1 lb Butter, cold, cut into small cubes
Kosher salt and white pepper to taste
Garnish
2 cup sliced mixed wild mushrooms
3 tablespoons butter, softened
24 each crab claw fingers
Kosher salt and cracked black pepper to taste
Preparing the Pecan Crust
Preheat oven to 350°. Finely grind pecans in a food processor. Add flour and salt. Mix well. Transfer to a large mixing bowl and cut in butter, working butter into flour with two knives until dough is in crumbs the size of small peas. Add ice water and evenly incorporate into the mixture, which should remain fairly crumbly. Roll out dough to an 1/8" thickness on a lightly floured surface. Press dough into a lightly greased 9" tart pan, starting with the sides and then the bottom. Bake crust for 20 minutes or until golden. Note: dough can be made ahead of time. If doing so, wrap dough tightly in plastic wrap and refrigerate. Allow dough to come to room temperature before rolling out.
Preparing the Filling
Sauté onion in butter until translucent. Add crabmeat and cook just until heated through, then remove from heat. Blend cream cheese until smooth in a mixer fitted with a paddle or by hand using a wooden spoon. Add Creole cream cheese and mix well. Mix in eggs one at a time. Gently fold in crabmeat mixture. Stir in hot sauce and season to taste with salt and white pepper. Spoon filling into prepared crust. Bake at 300° for 30-40 minutes or until firm to the touch.
Preparing the Meuniere Sauce and Garnish
Combine lemon, Worcestershire sauce and hot sauce in a heavy saucepot. Reduce over medium heat, stirring constantly with a wire whisk until mixture becomes thick and syrupy. Whisk in heavy whipping cream. Reduce heat to low and slowly blend in butter one cube at a time, adding additional butter only after previously added butter has completely incorporated into the sauce. This process is called "mounting the butter." Remove from heat and continue to stir. Season with salt and pepper to taste. Strain through a fine strainer and keep warm. Sauté mushrooms in 2 tablespoons butter until tender and all moisture has cooked off. Excess water from the mushrooms may break your sauce if it isn't cooked off. Stir mushrooms into meuniere sauce. Melt 1 tablespoon butter in a saute pan and warm crab claws over low heat.
To Serve
Slice cheesecake and top each piece with warm meuniere sauce and three crab claws.